WorkLab2021-2
WorkLab is EAWOP's practitioner workshop programme. We bring together leading edge academics with expert practitioners to explore different topics and innovations in practice. The programme is particularly relevant to experienced practitioners, but anyone involved in using work and organisational psychology to improve organisational and individual practice and performance in the workplace will find them relevant. Join our LinkedIn page for regular updates.

We will continue with virtual WorkLab events while travel remains difficult. This year's scheduled event, Improving psychological wellbeing through organizational interventions, will go ahead in November 2022. Meanwhile we are organising a series of virtual events focusing on the changing world of work beyond the pandemic. These will be organised as two hour virtual workshops and we have three planned to be scheduled between November 2021 and June 2022. We are very excited about the speakers we are talking to.
Organising Committee:
Registration
Follow the link to register for the event(s) you wish to attend.

Virtual WorkLab is free and open to EAWOP members (Qualified psychologists can join EAWOP at http://www.eawop.org/how-to-join) and psychologists nominated by their Constituent associations ONLY. Attendees must be:
a) practitioners working in Work and Organizational Psychology for at least two years;
b) have an interest in applying/learning more about the changing workplace and new ways of working, and
c) able to evidence being inspired and committed to practitioner activities.

There is a 25 Euro late fee for any registration not completed by the closing time.
Programme Details
Improving Worker Experiences When Working From Home: Lessons from Work Design


Professor Sharon Parker
18th November 2021, 09.00 – 11.00 CET
We are delighted to be able to welcome Professor Sharon Parker to lead our first workshop. ARC Laureate Fellow Sharon K. Parker is a John Curtin Distinguished Professor at Curtin University, Director of the Centre for Transformative Work Design, and named a Web of Science 2019 Highly Cited Researcher. She has published over 150 articles in leading journals on topics including work design and proactive behaviour. <link to long bio>
Many people worked from home during COVID, and predictions are that the level of flexible working will remain high into the future. In this presentation, Sharon will discuss workers' experiences during COVID-19 through a work design lens. She will summarise key benefits and challenges for those workers working from home using the SMART model of work design, and will show how these factors, as well as individual factors, influence employee mental health, well-being, and performance. Sharon will present a future research agenda, and also discuss the sorts of practical support that applied psychologists can offer organizations during this time.
Following Sharon's presentation, delegates will participate in some interactive activities to review and develop how the SMART model of work design can be embedded in their practice.
Suggested pre-reading
https://www.futureofworkinstitute.com.au/smart-workdesign
https://www.thriveatwork.org.au
More about Professor Sharon Parker
ARC Laureate Fellow Sharon K. Parker is a John Curtin Distinguished Professor at Curtin University, Director of the Centre for Transformative Work Design at Curtin University, an Honorary fellow at the University of Western Australia, and an Honorary Professor at the University of Sheffield where she was previously Director at the Institute of Work Psychology. She is a recipient of the ARC's Kathleen Fitzpatrick Award, and the Academy of Management OB Division Mentoring Award. Her research focuses particularly on job and work design, and she is also interested in employee performance and development, especially their proactive behaviour. She has published more than 150 internationally refereed articles, including publications in top tier journals such as the Journal of Applied Psychology, Academy of Management Journal, Academy of Management Review, and the Annual Review of Psychology on these topics and, in November of 2019, Sharon was named among the world's most influential scientists and social scientists in the 2019 Highly Cited Researchers list released by the Web of Science Group, and the only female in Australia appearing on this list in the field of Economics and Business. Sharon is a Fellow of the Australian Academy of Social Sciences, and a Fellow of the Society for Industrial and Organisational Psychology. She is a past Associate Editor for Academy of Management Annals, and the leading organisational psychology journal, Journal of Applied Psychology, and she has severed on numerous editorial boards. Professor Parker has attracted competitive research funding worth over $40,000,000, and has worked as a researcher and consultant in a wide range of public and private organizations, as well as being extensively involved in delivering executive education on topics such as leadership, design thinking, work redesign, self-management, proactivity, and organisational change; the design and development of organisational leadership programs; and the development of leadership evaluation processes and measures. Her research has been cited more than 25,000 times.
The year of the plague: The societal and psychological changes that may shape how we work and live in the future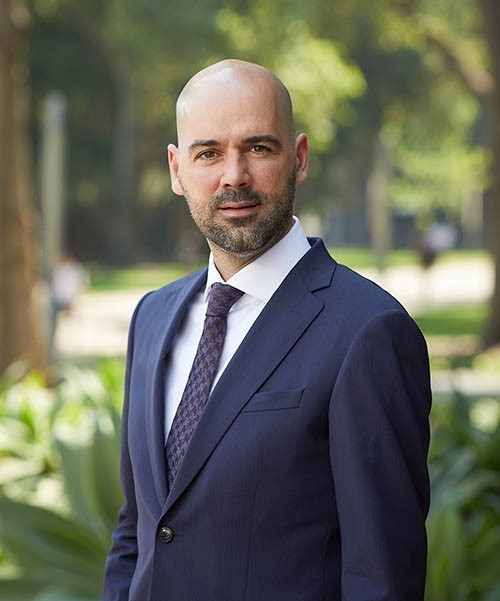 Professor Frederik Anseel
24th February 2022, 09.00 – 11.00 CET
Frederik Anseel is Senior Deputy Dean at the top-ranked UNSW Business School, Sydney and is a multiple award-winning scholar at the prestigious Australian Graduate School of Management. Previously, he held leadership and professor appointments at King's College London (UK), ESSEC Business School (France), Bocconi University (Italy) and Ghent University (Belgium).
Throughout human history, pandemics have always shaken-up society. This time will be no different. Sometimes it takes a while to see the new fault lines, to see the larger patterns and trends that change society, industry, and technology. When in the fog of war, it is difficult to see the bigger picture. However, being able to anticipate what is coming next can help us prepare for and maybe even shape the change. In this talk, Frederik will use insights from behavioural science to explore how societal changes and psychological dynamics that have emerged throughout the pandemic may affect how we work, live, and thrive in a post-covid era.
After an introduction to the theme, participants will jointly discuss and tackle a pressing problem that many organizations are currently trying to address: How to redesign the workplace to make it work for everyone?

Suggested pre-reading
https://www.businessthink.unsw.edu.au/articles/6-key-ways-covid-19-changing-workplace
https://newsroom.unsw.edu.au/news/business-law/what-real-impact-covid-19-our-mental-health
https://www.frederikanseel.com/2020/11/02/how-covid-19-could-accelerate-the-rise-of-smart-cities/
Frederik Anseel is Senior Deputy Dean at the top-ranked UNSW Business School, Sydney and is a multiple award-winning scholar at the prestigious Australian Graduate School of Management. Previously, he held leadership and professor appointments at King's College London (UK), ESSEC Business School (France), Bocconi University (Italy) and Ghent University (Belgium).
Professor Anseel studies how people and organizations learn and adapt to change. His influential leadership studies, published in leading academic journals, have been cited over 7000 times and featured in the Financial Times, The Economist, Harvard Business Review, The New York Times, The Guardian, and the Australian Financial Review.
In 2018, he was invited by the American Association for the Advancement of Science (AAAS, the largest scientific association in the world) for a global webinar broadcast on mental health and the importance of supportive leadership. His article on how COVID-19 might change the blueprint of cities was selected by LinkedIn as one of 21 Big Ideas that will change our world in 2021. Professor Anseel currently serves as the President of the European Association of Work and Organizational Psychology.
frederikanseel.com
Behavioral insights for better organizations