Call for Papers SGM "The Living Wage"
06.12.2018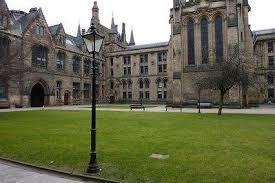 EAWOP Small Group Meeting
"The Living Wage?"
Call for Papers
June 3-5, 2019
Adam Smith Business School, University of Glasgow, UK
Organisers
Prof. Rosalind Searle (U of Glasgow, UK)
Dr. Ishbel McWha-Hermann (U of Edinburgh, UK)
Prof. Stuart Carr (Massey University, New Zealand)
Conference Theme and Scope
We are pleased to announce the call for papers for this European Association of Work and Organizational Psychologists sponsored Small Group Meeting on the Living Wage.
Over the last decades there has been a growing socio-economic divide occurring in Europe and the rest of the world, which has escalated in magnitude following the global financial
crisis (GFC) (OECD 2017). While economists have been quick to highlight the impact of such societal inequality on economic growth, by comparison there has been a dearth of
attention from psychologists. This is somewhat surprising as such disparities are known to impede social cohesion and produce adverse health consequences (ibid). The aims of this
small group meeting are twofold: 1) to advance our empirical and conceptual knowledge of the psychological perspective on living wages, including methodological considerations, and
2) to bring together academics, practitioners and policymakers to set an agenda for the next step of living wage research. Specifically, this SGM calls for conceptual, methodological and
empirical presentations on topics related to the living wage, including (but not limited to) the following possible topics:
1. Conceptualising and operationalising living wage within the context of psychological research;
2. Employee perceptions and experiences of living wages, including examining the multiple (individual, family, organisational, societal) consequences of living wages;
3. Extending understanding and interest in psychological study of work and pay, which offers a more holistic perspective that extends narrow economic cost-benefit analyses (e.g. wage costs vs. employment) of paid work by including critical contextual factors such as working time and working conditions;
4. Elaborate, extend and posit theoretical concepts concerning living wages, including its social embeddedness and links between living wages and affective, cognitive, behavioural and physiological indicators (such as self-efficacy and self-worth, well-being, job security and work motivation);
5. Explore and develop current (e.g. surveys, indepth interviews, case studies and mixed-methods) and new methodologies capable of capturing the nuances of living wages including short and long term affective, cognitive, behavioural and physiological dimensions;
6. Case study examples of how to inform and impact organisations and policy makers of the consequences of living wages;
7. Research on cross-cultural issues in living wages, or comparison of living wages across different cultural contexts;
8. Role of entrepreneurship and innovation in addressing living wages
9. Using data analytics and "big data" to provide answers around living wages
10. The evolution of the "gig economy", including insecure and precarious work, and its role in the living wage movement
Meeting format, location and date
The meeting is a small group meeting. The aim is to foster extensive discussion, cross-fertilisation of ideas, and research collaboration.
There will be around 25-30 participants at the meeting. Each paper will be presented in plenary to the entire meeting with a maximum number of 20 presentations. Approximately 5-
10 presentations will be invited presentations from prominent researchers in the area. Moreover, we will invite practitioners and policymakers that are involved in this topic to
exchange knowledge with academics. The remaining presentations will be selected through a competitive process, in which submissions are reviewed by at least two members of the organizing committee.
The meeting will be over 2.5 days on 3-5 June, 2019. The meeting will be held at University of Glasgow in Scotland, United Kingdom. Glasgow is Scotland's largest city and recently
voted the voted the world's friendliest city. The University is Scotland's second oldest, founded in 1451. (See https://www.gla.ac.uk/explore/history/).
Glasgow has good access to Europe through regular domestic and international flights to Glasgow and Edinburgh airports. It has good train and motorway access too.
Participants whose papers are selected for presentation will be advised of suitable hotels and locations when their presentation proposal is accepted.
Attendance at the workshop involves a small fee of €100 for everyone except for PhD candidates who have a reduced fee of €50. Tea, coffee, lunches and dinner are provided
courtesy of EAWOP sponsorship. Participants need to provide for their own travel and accommodation costs. A limited number of bursaries are available up to a maximum of €500
to assist with costs. If you would like to be considered for a bursary please submit a maximum 500 word outline of your case (including budget) along with your paper abstract.
Submission of abstract and full paper
Abstracts should be submitted before 25 Febuary, 2019 to both Rosalind Searle at rosalind.searle@glasgow.ac.uk and Ishbel McWha-Hermann at ishbel.mcwha@ed.ac.uk.
Abstracts should be no more than 800 words. Each abstract should contain the following information: a) Statement of problem(s), b) Description of study, theory, review, etc. and c)
How it enhances our understanding of living wages and contributes to the aims of the small group meeting. Empirical papers should use rigorous research designs and should contain
information of methods, sampling and sample size, measures and results. Conceptual papers should pose specific and unanswered questions and/or make specific and novel predictions.
Participants will be notified of the decision by the end of March, 2019.
Participants will be invited to submit their papers to a special issue and/ or contribute to a position paper to journals such as European Journal of Work and Organizational
Psychology and Journal of Occupational and Organisational Psychology.
More information and up-dates
Please follow us on Twitter #LivingWage for information and updates on the meeting organization. You may also email the meeting organisers.
References
Anker, R. (2006). "Living wages around the world: A new methodology and internationally comparable estimates." International Labour Review 145(4): 309-338.
Carr, S. C., I. McWha, M. MacLachlan and A. Furnham (2010). "International–local remuneration differences across six countries: Do they undermine poverty reduction work?"
International Journal of Psychology 45(5): 321-340.
Carr, S. C., J. Parker, J. Arrowsmith, P. Watters and H. Jones (2016). "Can a 'living wage'springboard human capability? An exploratory study from New Zealand." Labour &
Industry: a journal of the social and economic relations of work 26(1): 24-39.
Carr, S. C., J. Parker, J. Arrowsmith and P. A. Watters (2016). "The living wage: Theoretical
integration and an applied research agenda." International Labour Review 155(1): 1-24. Manstead, A. S. R. (2018). "The psychology of social class: How socioeconomic status
impacts thought, feelings, and behaviour." British Journal of Social Psychology 57(2): 267-291.
OECD (2017). Understanding The Socio-Economic Divide In Europe, OECD.
Parker, J., J. Arrowsmith, R. Fells and P. Prowse (2016). "The living wage: concepts, contexts and future concerns." Labour & Industry: a journal of the social and economic
relations of work 26(1): 1-7.
Searle, R. H., B. Erdogan, J. M. Peiró and U.-C. Klehe (2014). Youth Employment SIOP White Paper series, Society for Industrial and Organisational Psychology
Smith, L. (2015). "Reforming the minimum wage: Toward a psychological perspective." American Psychologist 70(6): 557 - 565.