GENERAL ASSEMBLY - EAWOP LETTER TO FULL MEMBERS AND CONSTITUENTS
23.12.2021
EAWOP LETTER TO FULL MEMBERS AND CONSTITUENTS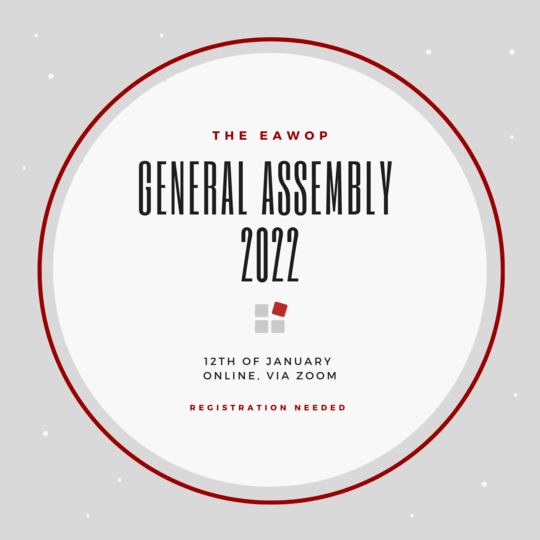 With this letter we invite constituents and full members to participate in the online General Assembly (GA) for 2022.
EAWOP is required to hold a General Assembly every year. This is a face-to-face meeting in congress years but, to our great regret, the upcoming congress in Glasgow has had to be cancelled due to the current health and travel implications for our members and congress contributors. We want to inform all our members about the activities and the financial situation of EAWOP. Therefore, the GA will take place online on Wednesday January 12th, 17:00 – 19:00 CET (16:00 – 18:00 GMT).
The agenda of the online GA is available here (http://eawop.org/ga-2022) and can be viewed after log-in to the EAWOP website with your membership details.
In order to attend the online EAWOP 2022 GA, please fill in this Google form (link here). Your registration is needed to be able to vote during the GA. The voting itself will be anonymous, but we need to ensure that only eligible members can participate in this process.
Further information about online attendance, documents for consultation, and the voting process will be sent shortly before the General Assembly to the registered members.
We hope you will participate in the online GA in January 2022 and we look forward to meeting you then.