Participate in the Thrive at Work at Home study
28.04.2020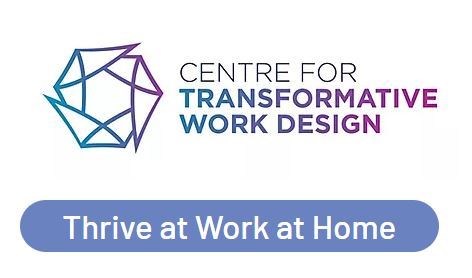 In an effort to respond to these challenging times, Professor Sharon Parker and the team at the Centre for Transformative Work Design, Future of Work Institute, Curtin University, Western Australia, have launched a critical Thrive at Work at Home survey study to investigate the impact of the COVID-19 pandemic on work and well-being.
The global outbreak of COVID-19, and the social distancing and self-isolation measures which have been put in place, are rapidly and drastically changing how and where work is done, often with little choice for those involved. We aim to better understand how individuals and organisations are being affected, what new possibilities are being created, and how we can provide practical support for the intense demands that workers are experiencing right now.
They need your participation and are keen to hear from you if you are working from home at least part of the time, or are likely to be working from home soon. Participation involves 4 weekly 30 minute surveys followed by 5 monthly 30 minute surveys (6 months in total). Participants benefit by:
a) contributing to critical COVID-19 scientific research; and
b) receiving a personalised feedback report after completing the first 3 surveys, including tips and strategies for thriving at work at home;
c) receiving a token of appreciation after completing the first 4 surveys, and again after completing 8/9 surveys. This token can be donated to COVID-19 medical research, or donated back to the research team to continue important research into thriving at work at home. Australian participants also have the option of receiving this token as a Coles voucher. We are unfortunately not able to offer this last option to participants outside of Australia.
Find out more about the survey here.
Take the survey HERE
If you have any questions, please feel free to contact the project lead, Caroline Knight, at the centre for transformative Work Design, Future of Work Institute, Curtin University, Western Australia (caroline.knight@curtin.edu.au).