Academic position 'Teamlearning and development of professional competences' (100%) KU Leuven
19.02.2020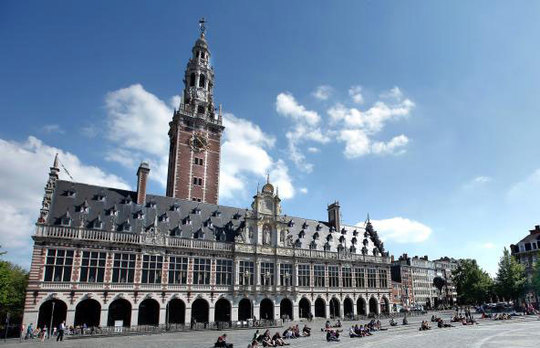 There is a full-time academic vacancy in the Faculty of Psychology and Educational Sciences of KU Leuven (Belgium), in the interdisciplinary research unit O2L (Oxygen2Learn): Occupational and Organizational Psychology and Professional Learning.
The position consists of academic teaching, research, and services to the community.
KU Leuven is a leading academic institution in Europe and its mission is to realize excellent academic education, research and societal services. KU Leuven is a member of the League of European Research Universities (LERU) and is consistently ranked among the top 10 universities in Europe.
The research unit O2L: Occupational and Organizational Psychology and Professional Learning, is doing excellent and innovative research focusing on optimal functioning of people in the context of work. Special attention is given to sustainable employability, wellbeing, performance, and innovative work behavior. Therefore, continuous learning is key, both for individuals and teams. This is driven also by the current dynamic context of work, with a growing diversity, interdisciplinary groups and teams, temporary and virtual teams and constantly changing job content. This all requires new, complex competences of professionals.
The research within O2L is both fundamental and applied, and we use a range of research designs and methods. The research unit has very strong international and national ties, both academic and with professional organizations and communities.
Research
We are searching for a colleague who (further) develops a strong and innovative research program in the domain of team processes, team learning and team interventions, and related development of competences.
Your research fits in the mission and research approach of the research unit and faculty.
You develop cooperation with other academic staff in the research unit, the faculty, and university. You acquire research funding and publish in international peer-reviewed journals.
You supervise PhD students to a high standard.
Teaching
We expect you to take an active and leading role in our educational programs. You contribute to :
courses in the bachelor and master programs in Educational sciences and Educational studies (Campus Leuven and Kortrijk), particularly in team learning and group dynamics and professional competences.
supervision of Bachelor students' projects and MSc internships and MSc theses.
The assignment of teaching tasks will be achieved by mutual agreement and taking into account your expertise and interests. You develop your teaching in line with the teaching philosophy of KU Leuven based on activating, research-based and practice-oriented teaching.
Services to the community
We expect you to be active in services to the community, both within the faculty and the university, and in society. More specific:
You take up administrative responsibilities in the research unit, and faculty;
You are active in international networks, academic and professional;
You are well connected with the national professional organizations in the domain of training and coaching;
You contribute to dissemination of knowledge to professionals and broader public.
Requirements
You are expected to have a PhD in behavioural sciences, preferably Educational Sciences, or in a related discipline, provided that you have relevant research experience in the field. You are expected to have an excellent research track record, as evidenced by publications in international peer-reviewed journals within the broad domain of team processes and interventions in groups or teams.
You have an international research network.
You have excellent teaching skills and are willing to further develop these skills. You have experience in coaching and training groups and teams in professional contexts. Work experience in the professional field is an extra asset.
You are a team player, a coaching leader, and can act as role model for the topics you teach: you have excellent communication and organizational skills, at interpersonal and team level.
The administrative and educational language at KU Leuven is Dutch. If you don't not already have mastery of Dutch, you are expected to become fluent in Dutch within 3 years. KU Leuven will provide a training program that is designed to equip the candidate with language skills to be able to teach in Dutch. Before teaching courses in Dutch or English, she/he will be given the opportunity to learn Dutch (or, respectively, English) to the required standard. Because the main teaching assignment of the candidate is in the Dutch bachelor and master programs, knowledge of Dutch at the start of the appointment is highly recommended.
Offer
We are offering full-time employment in a dynamic and internationally oriented research environment. Depending on your record and qualifications, you will be appointed in one of the academic staff grades. In case you have recently obtained your PhD, you are recruited as assistant professor in a tenure track position with evaluation after 5 years. In case of positive evaluation after 5 years, you will then be appointed to the rank of associate professor. In Belgium, assistant professors are allowed to be main supervisor of a PhD and can autonomously apply as principal investigator for research grants. KU Leuven is offering financial resources to new professors to start up their own research lines. They can also apply for own project funding.
KU Leuven is an equal opportunity employer.
Interested?
We invite applications via this LINK
Please include a short research statement and teaching statement (each max 3 pages) with a cover letter that details your motivation for this position. The Faculty of Psychology and Educational Sciences values open science and supports transparent, reproducible research. Applicants are asked to document how they have pursued open science practices in the past and/or will do so in the future.
To obtain more information about this position, candidates should contact Prof. dr. Martin Euwema (martin.euwema@kuleuven.be). If you have problems submitting your application online, please contact solliciteren@kuleuven.be.