Job Openings at IESEG
11.11.2019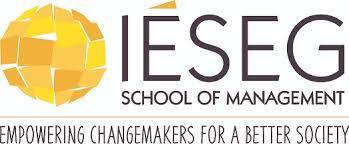 IESEG SCHOOL OF MANAGEMENTdepartment of People, Organizations and Negotiation" is currently looking for the following positions:
1 Assistant or Associate Professor in Human Resource Management / Organization Studies
1 Assistant or Associate Professor in HUMAN RESOURCE MANAGEMENT/ORGANIZATION STUDIES/ORGANIZATIONAL BEHAVIOR (with an emphasis on Change Management)
1 Associate or Full Professor in INTERNATIONAL NEGOTIATION, MEDIATION AND/OR CONFLICT MANAGEMENT
1 Lecturer in LEADERSHIP
1 Assistant or Associate Professor in LEADERSHIP
ABOUT IESEG SCHOOL OF MANAGEMENT
IÉSEG holds the "triple crown" of international accreditations (AACSB, AMBA & EQUIS) and is a member of the "Conférence des Grandes Écoles". The School offers Bachelor, Master and Post-Graduate Degrees as well as Executive Education programs.
IESEG is one of the leading French business schools in terms of research. The IESEG Research Center is accredited by the French CNRS (National Center for Scientific Research). The school actively promotes research, provides resources for active scholars and offers financial bonuses for high quality international peer-reviewed research publications. Moreover, the school hosts several Centers of Excellence, which foster the external communication of research and teaching. One of them is specifically dedicated to research in the area of negotiation and conflict management (ICON; http://icon.ieseg.fr). As a result, faculty members are highly successful in publishing their research in top-tier refereed international journals.
IESEG offers a dynamic and international work environment with over 40 different nationalities represented. Crucial to the school are its core values: Accomplishment, Responsibility, Integrity, Solidarity and Engagement. These are strongly reflected in our recruitment policy, which focuses on promoting equality, diversity and providing an inclusive and supportive environment for everyone. The school offers employees a competitive salary, a relocation allowance and housing search assistance, French social security benefits, complementary health insurance, a profit sharing plan, and a contributory pension scheme. Our satisfaction survey among new hires shows that 100% of the respondents were (very) satisfied with the organization of their arrival on campus.
Our Lille Campus is in the heart of the Northern French city of Lille (within the triangle made up by London, Paris and Brussels), and our Paris Campus (with a brand new building) is located in the biggest European business district of "La Defense". Both premises have an excellent classroom infrastructure as well as an energizing research environment.
More information about IESEG School of Management is available online at: http://www.ieseg.fr/en/

ABOUT THE DEPARTMENT OF PEOPLE, ORGANIZATIONS AND NEGOTIATION
The department consists of around 30 full-time academic staff who teach and perform research in the areas of Human Resources Management, Organizational Behavior, Organization Studies, Negotiation, Mediation and Conflict Management. Our diverse body of permanent professors have recently published articles in international peer-reviewed journals such as Organization Studies, Journal of Management, Journal of Organizational Behavior, Organizational Behavior and Human Decision Processes, Negotiation and Conflict Management Research, International Journal of Conflict Management, Journal of Management Studies,
Human Resource Management (Journal), Human Relations, Research Policy, Industrial Relations, Journal of Business Research, European Management Review, Human Resource Management Review, Journal of Business Ethics, and many others.
For more details on each of the positions, you can download the descriptions:
1 Assistant or Associate Professor in Human Resource Management / Organization Studies
1 Assistant or Associate Professor in HUMAN RESOURCE MANAGEMENT/ORGANIZATION STUDIES/ORGANIZATIONAL BEHAVIOR (with an emphasis on Change Management)
1 Associate or Full Professor in INTERNATIONAL NEGOTIATION, MEDIATION AND/OR CONFLICT MANAGEMENT