Research Associate (PostDoc)
20.06.2017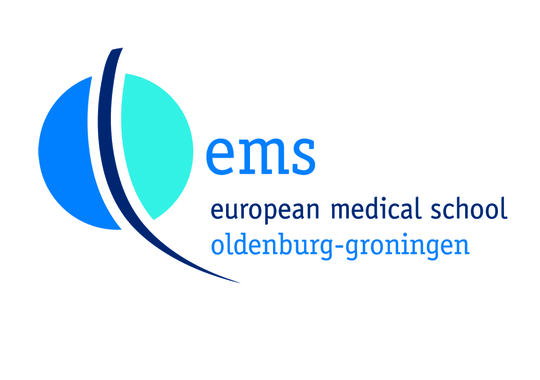 The European Medical School is a cooperation of Oldenburg University with its cooperating hospitals and the University of Groningen with its University Hospital UMCG. Beyond their cooperation in the development of a medical school the institutions also develop shared research activities. In the Department of Human Medicine at the Section Perioperative Inflammation and Infection a position is offered as
Research Associate (PostDoc)
Salary level E13 TV-L,100%
For three years. The position can be filled in part time.
The task of the colleague will mainly be the description of differences in transborder educational concepts in health care professions within the frame work of the InterRegV project EurHealth'1Health as well as the participation in the development of an interprofessional educational concept in the framework of a project (MedPhysio in cooperation with Osnabrück Highschool) funded by the Robert Bosch Foundation in its Operation Team program. Additional projects in the area of comparative organizational research between The Netherlands and Germany have to planned and carried out.
Prerequisite for the position is the successful completion of a master (or equivalent) program in psychology or a neighboring discipline with major pedagogical-psychological focus. In addition, broad experience in quantitative research with actual experience in organizational psychological subjects is required, which is reflected by relevant doctorate and publications.
What we expect:
• Education in quantitative methods of social systems research
• Experience or knowledge in interprofessional education (IPE)
• Hands on teaching experience in university and non-university education of adults
• Experience in curricular development in university and non-university teaching
• Excellent competencies in English, Dutch and German (all level B2 oder C1) or the willingness to acquire these skills in the weaker language
We are looking for a personality that impresses with team spirit and independent working for the team.
What you can expect:
• Possibility to develop largely independent research activities
• Membership in a dynamic interdisciplinary team
• Direct working contacts with our cooperation partners in The Netherlands, Sweden, Belgium and the USA.
The University of Oldenburg is dedicated to increase the percentage of female employees in the field of science. Therefore, female candidates are strongly encouraged to apply. According to § 21, 3 NHG female applicants are to be preferentially considered in case of equal qualification. Handicapped applicants will be given preference in case of equal qualification.
Please send your application including a CV, copies of the most important certificates and the name and contact details of three references as one consolidated file (pdf) to gregor.theilmeier@uol.de until 15.07.2016. Please contact us with any question. www.uol.de/peri-2xi