Two Tenure Stream Assistant / Associate Professor Positions
30.08.2018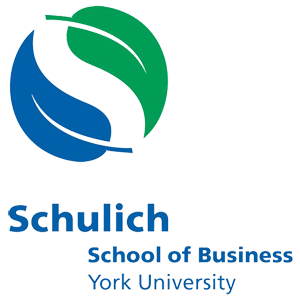 The Organization Studies area at the Schulich School of Business, York University invites applications for two tenure-track professorial-stream appointments in Organizational Behaviour at the Assistant or
Associate Professor level, to commence July 1, 2019. Salary will be commensurate with qualifications and experience. All York University positions are subject to budgetary approval.
We welcome applicants to these positions who have a research and teaching focusin individual and interpersonal phenomena such as leadership, power, politics, negotiation, or teams and groups.
The research of faculty in the Organization Studies area covers a wide range of topics and methods with interests in diversity, organizational justice, ethics, emotions, negotiation,teams and groups,
organizational behaviour, CSR, and culture.
Preferred candidateswill have:
- a PhD in Organizational Behaviour or a related area;
- an outstanding and ongoing program of academic research and publishing in top-tier journals in organizational behavior commensurate with length of academic career;
- evidence of outstanding teaching within a businessschool, preferably including the Master's level;
- a willingness and an ability to contribute to the doctoral program and help build the Area;
- clear evidence of active involvement in the field.
The successful candidate must be suitable for prompt appointment to the Faculty of Graduate Studies. The position will involve graduate teaching and supervision, as well as undergraduate teaching. Pedagogical innovation in high priority areas such as experiential education and technology enhanced learning is preferred.
York University is an Affirmative Action (AA) employer and strongly values diversity, including gender and sexual diversity, within its community. The AA Program, which applies to Aboriginal people,
visible minorities, people with disabilities, and women, can be found at www.yorku.ca/acadjobs or by calling the AA line at 416-736-5713. All qualified candidates are encouraged to apply; however,
Canadian citizens, Permanent Residents and Indigenous peoples in Canada will be given priority.
The deadline for receipt of completed applications is November 15, 2018. A letter of application with an up-to-date curriculum vitae, a statement of research and teaching interests, three letters of
reference and teaching evaluations should be sent to:
Professor Chris Bell, Area Coordinator
Organization Studies, Schulich School of Business, York University
4700 Keele Street, Toronto, Ontario M3J 1P3
Email: orgs@schulich.yorku.ca

Applicants wishing to self-identify can do so by downloading, completing and submitting the forms found at: http://acadjobs.info.yorku.ca/. Please select the Affirmative Action tab under which forms
pertaining to Citizenship and AA can be found.