1st EAWOP WorkLab 2012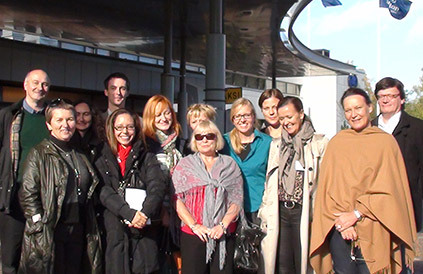 On 4th October 17 delegates from 11 different European countries, four speakers and three workshop organisers meet at the Kalastajatorppa Hotel, in Helsinki for the first WorkLab event that was held over a two-day period from evening Thursday to lunch on Saturday.
The WorkLab is described below and PDF files of the speakers presentations are available by clicking on their name. Two of these are currently available and two more presentations will be added when they become available.
The programme
The WorkLab opened with an informal gathering where Angela Carter gave a presentation about EAWOP's work and the generation of the WorkLab concept. Delegates then took part in an interactive session getting to know each other, their associations and similarities and differences between their practices (e.g., registration of practice). Some interesting maps of Europe were drawn. This event was followed by drinks and a private dinner.
Friday, (5th October) began with an in-depth presentation and interactive discussion about assessment and decision-making lead by Prof. Marise Born. After lunch Prof. Michael Leiter offered an interesting and detailed look at aspects of well-being and burnout. This was followed by discussion and presentation of various case studies of interventions to improve staff well-being. After some free time the delegates met again for drinks and a private dinner and were treated to an excellent after-dinner presentation from Prof. Katariina Salmela-Aro on Motivation to Action.
Saturday's programme was lead by Prof. Beverly Alimo-Metcalfe exploring the notions of near-by leadership with presentation and discussion. After a very positive evaluation session the delegates, speakers and organizers had an excellent lunch overlooking the Baltic and closed the WorkLab.
Evaluation
The evaluation of the event was very positive with the resounding call was to hold this event again, on an annual basis. This is being discussed by EAWOP's EC at their meeting on 16 November, 2012.